I didn't get to see Mo all that often but when we did hang out we partied! Monique was always smiling and joking around. She lit up any room she entered. Mo made me feel like I could call her anytime for any reason. She gave the best advice, and told the best stories. She was always there for me and all of her friends.
Mo and I used to talk about how she wanted to get into acting. I tried to convince her to model. I really wanted pictures of her in my make-up portfolio. She was the most perfect canvas. Mo wanted to start a portfolio in case she decided to pursue acting and/or modelling.
In Feb. '98, we got together and planned a photo shoot. A couple of days before the shoot, Mo was out at a club. She told me she was really hungry that night. She said she left the club and ran to one of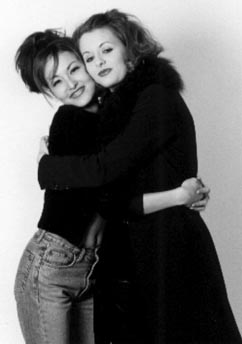 those hot dog stands that are always ouside the clubs at 2 AM. Mo was in such a hurry to eat she stuffed a hot dog into her mouth and split open the side of her lip! it was so funny because the photographer had to take all of the pictures of Mo from the side.
We all kept laughing right before a picture was to be taken, and we had to try so hard not to crack up. The photo shoot went on for hours. I was getting tired but of course Mo was trying to keep me laughing. I couldn't help but be in a good mood around Mo. She made me smile all the time. Even now when I think of her, I smile. Monique gave me a guardian angel pin and couple of years ago. I have a feeling she's watching out for us all. I miss you everyday Mo.
- Jenn Etherington