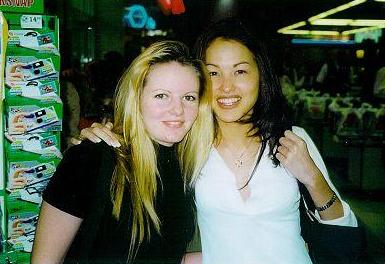 I don't know where to start but I must say Monique "Rocked!" I don't think that there is a word out there complicated enough to describe her. Besides her friendly angelic manners, she was the most beautiful creation on this earth. As someone once wrote:
IMMACULATE: PERFECTLY CORRECT WITHOUT A FLAW, FAULT OR ERROR; PURE, INNOCENT WITHOUT SIN; MONIQUE
We have shared over a zillion experiences and memories together and I will always cherish each one dearly.
Her girls were her life, which included Jen, Ieesha, Indra, Kara, Kim, Lara, Lisa, Manna and myself. We never had a dull weekend! PARTY! PARTY! PARTY! Monique had very close and very different friendships with all of us, but were all considered her best.
One thing I'm happy about is that Monique found a true and lasting love in Dino. Even though it took him so long to get his hands on her, he finally won her heart and she gladly gave it to him. Monique and Dino's relationship was definitely one to admire.
Monique's Mom and Dad were like parents to all of us! They had to put up with so many late night sneak in's and a house full of yappy teenage girls. I just want to say Cat and Kaasan, we love you to pieces and thank you.
I can't summarize who Monique was in just a couple of seconds but if anyone wants to know, I love to talk about her!
I just wanted to say, Monique, thank you for your kindness, generosity and everything you have been to me. I'm bound to thank you forever.
I love you babydoll and may you rest in peace. Remember....Dog Pound and BEST FRIENDS FOREVER!
Yours Always,
Stephanie K. Scott